Corbett Destination Wedding – Escape the chaos of city life and tie the knot in an intimate ceremony at a Jim Corbett resort surrounded by tranquil nature.
Destination Wedding in Jim Corbett
Corbett River Creek Resort offers a destination wedding in Jim Corbett that is perfect choice for couples and guests who love the forest and want to incorporate its unique elements into their special day. Our wedding services aim to create an unforgettable experience from engagement to honeymoon, ensuring each moment is cherished and memorable.
Elements into your special day
Outdoor & Indoor Ceremonies
Our property in Jim Corbett provides beautiful outdoor settings for wedding celebrations. However, it must be noted that there are limitations on the noise factor.
We recommend a combination of Indoor and Outdoor ceremonies considering various factors like weather, noise, and environmental regulations.
We will work closely with you to ensure that everything goes smoothly for both the pre and post wedding ceremonies. You can rely on us to be your point of contact throughout the entire process.
As a team, you can decide on the decorations, flowers, music, photographer, videographer, cake, ceremony specifics, and food menu for your momentous occasion.
Our team is prepared to schedule your appointment for wedding decor, in-room hair and make-up, spa services, and even group tee-times. You can rest assured that we will organize the wedding of your dreams.
Flowers, Cakes & Menu Creations
We are delighted to offer our assistance in the selection and design of flowers for your wedding, including reception and dinner arrangements.
Our highly skilled in-house Pastry Chef will craft a personalized wedding cake in the flavor of your choice.
At Corbett River Creek Resort and Spa, we take pride in our culinary creativity and are honored to tailor a menu to meet your individual requirements.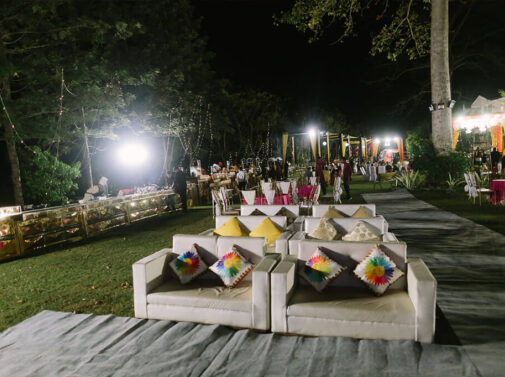 Linens and table top décor
We offer basic level of superior linens, cutlery, china and glassware for all banquet tables. Special colors, patterns or designs may be obtained for a nominal rental fee.
Salon, Spa and Beauty services
A wedding can be a stressful time. While you are guests of Corbett River Creek, you are invited to make use of our on-site spa for a restful massage or rejuvenating spa treatment. (As per Menu Rates)
Jim Corbett – A Popular Destination Wedding Location in India
Located in Nainital district of Uttarakhand, the Jim Corbett National Park is India's first national park. It was established in the year 1936 as Hailey National Park.
It is one of the most sought-after destinations for wildlife tourism in India. Exploring the rich flora and fauna at Jim Corbett National Park, primarily through Jeep Safari, is an excellent experience.
Apart from wildlife tourism, Jim Corbett is also a prime and popular for a destination wedding in India. Affordable rooms and accommodations facilities are available at our Corbett resort.
Local wedding planners can arrange a destination wedding in the perfect ways as they have local expertise and knowledge. We know and understand Jim Corbett.
Corbett River Creek resort can be your best local wedding planners in Jim Corbett if you considering us for your destination wedding in Corbett.
Why Choose Jim Corbett for Destination Wedding?
Why should you elect Jim Corbett National Park as your Destination Wedding? We are sharing some of the points below.
Lower Price: Destination wedding cost in Jim Corbett is comparatively more economical than other destinations of India. And the natural element in your wedding is sure to give you a unique experience to cherish for lifetime memories.
Unique Experience: Yes, a destination wedding in the best resort of Jim Corbett would be unforgettable experience than of other city locations famous for offering crowded wedding venues.
You can surprise and give happiness to your guests by offering a pleasant stay in the middle of the wilderness and an adventurous Jeep safari in the jungle. You can explore nearby places like Corbett Waterfall, Garjia Temple, Corbett Museum, Sitabani Temple, & more.
Popular Travel Destination: Jim Corbett National Park is one of the most popular travel destinations in India, especially in terms of wildlife tours. Your guests can spot here the majestic tigers and the great leopards. They see here a variety of birds in peace. Apart from jungle activities, there are several other things which your guests can enjoy.
Corbett River Creek officially available on these platforms only.